Any day that someone else makes breakfast is a good day! Yesterday Alex made pancakes with coconut syrup for everyone for breakfast, so we knew we were off to a great start! We shoved off at about 9:00 am to circle the island. Our first stop was at Waipio Bay on the northeast coast of the island (our hotel is on the southwest coast). Classic Hawaiian scenery – black sand bay, crashing surf, lots of green rainforesty stuff, and high cliffs rising above! Akaka Falls was next on the agenda, so we headed south to Akaka Falls park. Akaka Falls is, you guessed it, a waterfall. And a beautiful one! There's a short hike through the park to get to it, which was really really pretty – tons of foliage. Kahuna Falls, about a 100 ft. waterfall, is first along the path. Then comes Akaka Falls, falling 420 feet down a lush green backdrop into a quiet little pool at the bottom. It really was spectacular! Another one of God's great ideas for creation!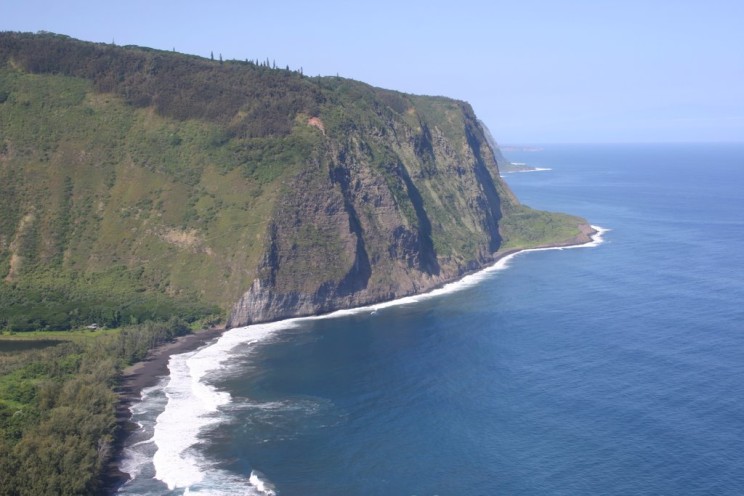 Waipio Bay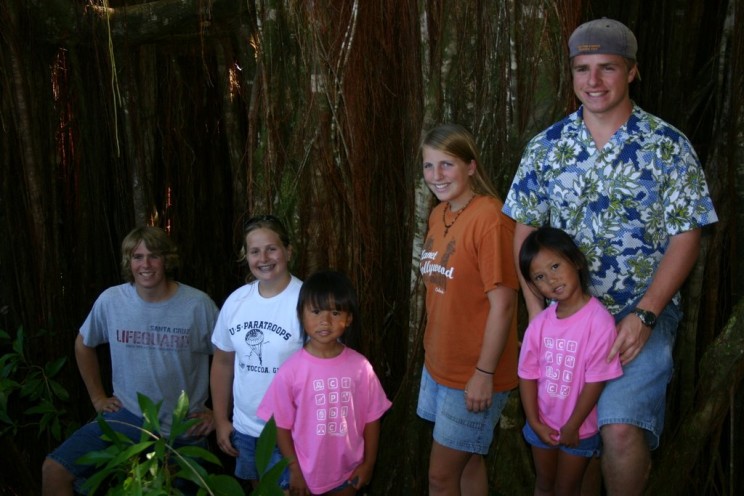 The kids inside a banyan tree at Akaka Falls Park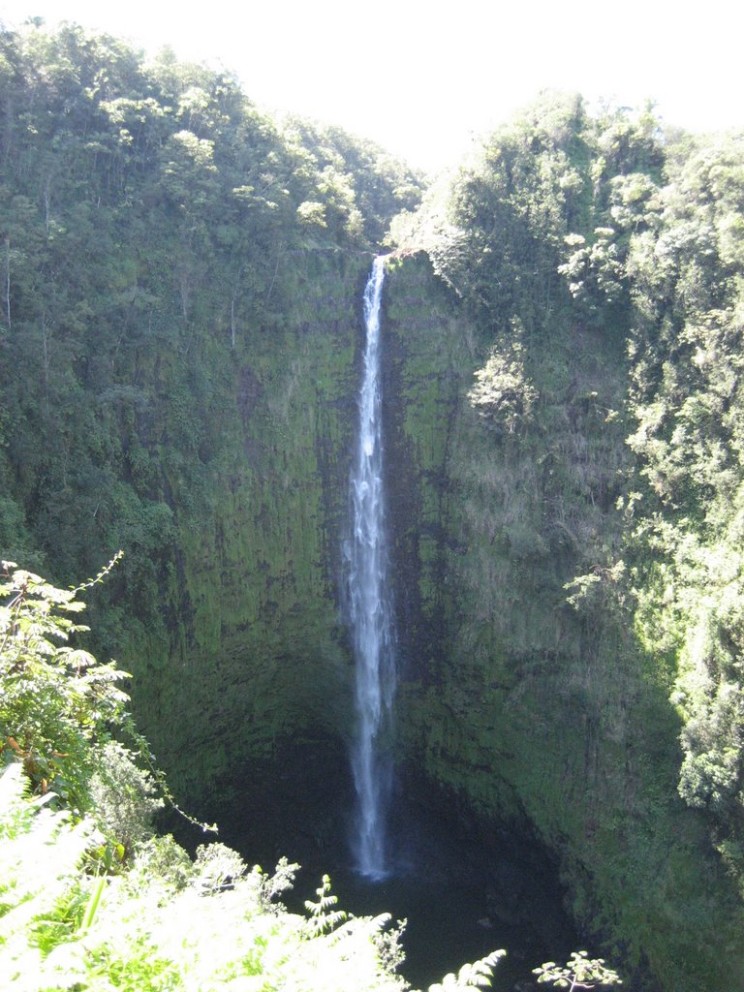 Akaka Falls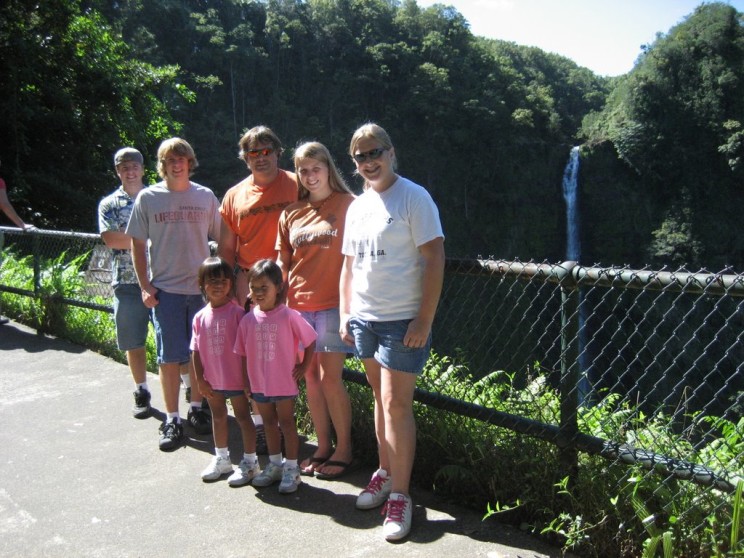 Our family in front of Akaka Falls
By this time we were all hot and starving, and sure we wouldn't make it the 30 minutes to Hilo for lunch, so we stopped in this really cute little town at the entrance to the park, and bought smoothies and cookies. Whew, we made it! All fueled up, we continued our journey on to Hilo. It was a good thing we stopped for snacks, because it took us over an hour to find a place for lunch! The first place we tried was out of business. The second was not open for lunch on Saturdays. Hmmm… Well, three times is the charm, because we ended up at a place called Cafe Pesto, and I think it was my favorite meal of our whole trip so far! I had a BBQ chicken pizza with cilantro pesto, and goat cheese, and then Creme Brulee for dessert. Pretty much my dream meal! (Oh yeah, and free refills on the Diet Coke. A rarity in Hawaii!)
Anyway, the search for lunch did lead us down a little street called Banyan Drive, that was really neat! It's a street lined with Banyan trees that were planted as saplings by celebrities back in the 1930's. Each one has a little plaque under it with the name of the "planter", and the year it was planted. There were names such as Amelia Earhardt, Cecil B. Demille, Franklin D. Roosevelt, King George V, etc. Very cool! Then, it was back to the volcano park!
This was our day to see the lava up close and personal! To view the current flow, you need to drive down to the coast where the lava is pouring into the ocean, so we took the 11 mile drive down Chain of Craters Rd. One particular stretch of the road ran through a huge old lava flow, that Bill described as looking just like a post-apocolyptic scene. I think he was right – that's exactly what it reminded me of! There was absolutely no color, no life, nothing. Just black/gray rubble in every direction with a mountain of the same color rising in the background.
We got to the coast just before sunset which was perfect. Since it was still light, we could see two huge billowing plumes of steam rising into the sky from the lava entering the ocean. At this point we were about three miles from the actual flow. You need to leave your car along the road at this point, and hike the rest of the way. The air is pretty yucky – thick and gritty, and and it smells like sulpher, or as Emma says, "It smells like eggs again". There's a ranger station at the trailhead, and the first thing I spotted was a centipede warning. Evidently centipedes like to retire to Hawaii as well, and really enjoy living in cooled, hardened lava, AND they all come out at sunset. So what do you suppose we were going to be hiking over? Cooled, hardened lava, AND it was sunset.
Is spite of the centipedes, on we went! The first 1/2 mile was along a paved road, so not too scary. Incidentally, the road used to be open all the way to the lava-ocean entry points, but in 2003 another lava flow covered the road, so now you need to hike over the hardened lava to get close to the current site. So, after the 1/2 mile paved walk, we hiked about 1/4 mile over the hardened lava (the part the centipedes like!) It was challenging with Anna and Emma, but they were tough!I kept my flashlight pointed at my feet at all times to be on the lookout for centipedes. (I may not recover from this!) The ground was real rocky and uneven, with lots of cracks and crevices, and it was pitch black by this time (the sky AND the ground). Definitely not a "friendly" place, but so awesome and so worth it! Now that it was dark, we could see a reddish glow at the top of the mountain from the crater where the volcano is originating, and at the bottom of the mountain, at the coastline, we could actually see the red lava pouring into the ocean! From this point now, it was approximately two miles in the distance, but it was still an amazing sight! We spent about an hour just looking and taking pictures, and then trekked back to the car.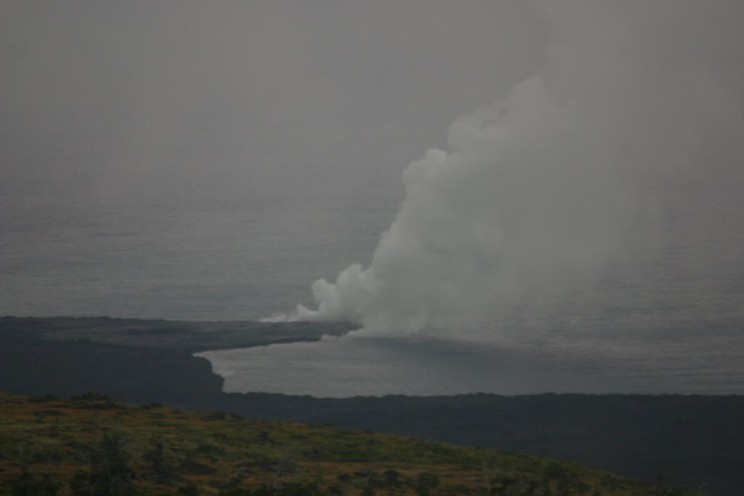 The volcano/ocean entry point at dusk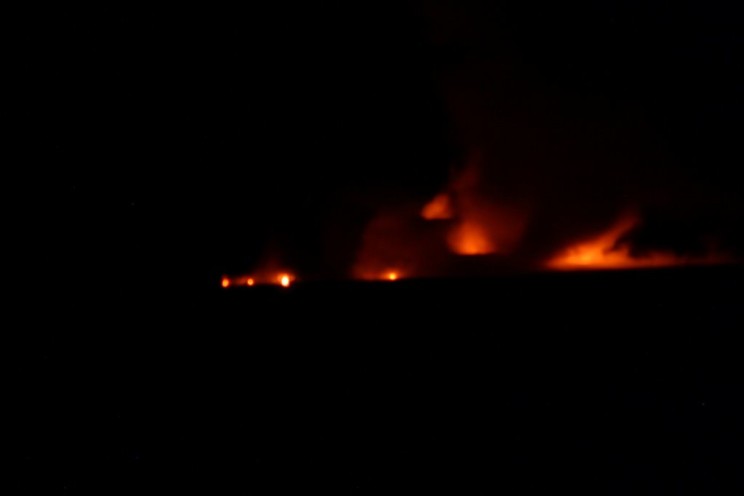 Lava entering the ocean at night
I'm happy to report that I never did see a centipede. Rianne, on the otherhand, saw a dead one on the road as we walked back to the car. She was gracious enough to NOT tell me how big it was, and I never looked! From her reaction, I'm guessing it was huge!
Quite a day we had yesterday! So much of God's awesome creative mind! It's Sunday now, and our last day on the Big Island. Alex just made pancakes again, and we're all just hanging around for right now. We'll see what happens next!
Till next time,
Terri