Yesterday was another beach day! Poor Bill had to stay in the hotel for awhile in the morning to work on school, but he met us a little later at the beach. We rented surfboards for a couple hours, and then rented an outrigger canoe. Way cool!!!! It was the 8 of us, plus two Hawaiian guys in the canoe. You paddle out hard against the waves, and then ride the waves in to shore. (I got the "queen" seat, so I didn't have to paddle!) We got to ride waves in three times, which took about 30-45 minutes. It was so much fun! It's amazing the way these guys know exactly how to read the waves and get the timing down perfectly.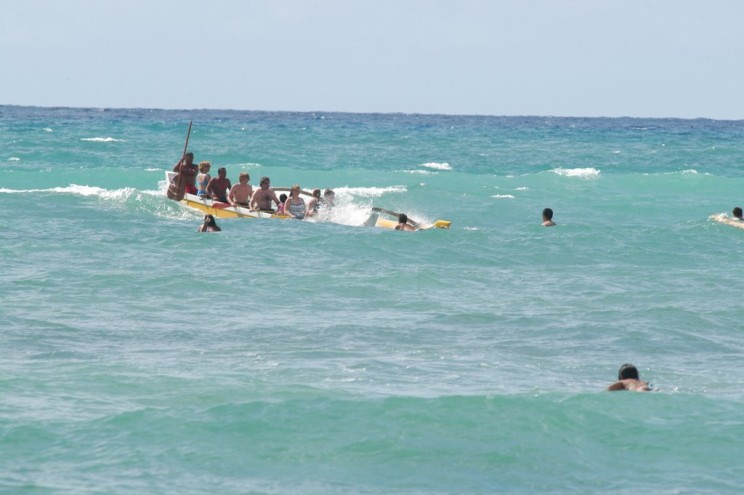 (Notice the Queen in the back not paddling!)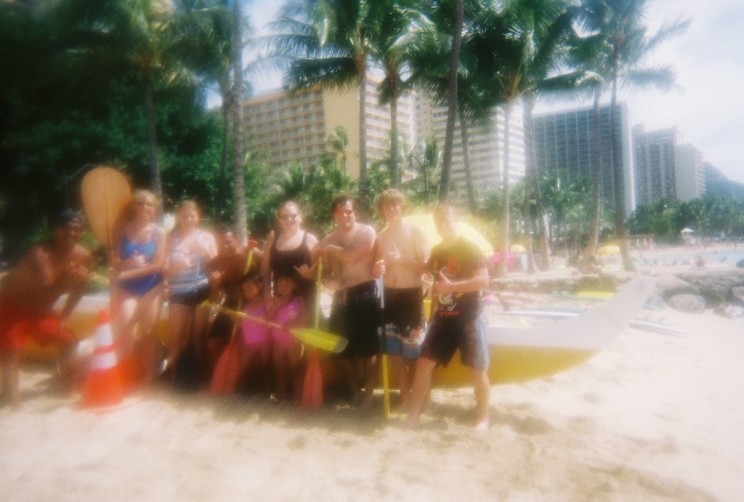 Our family after the ride (Sunscreen on the lens perhaps? I know this picture quality is horrible, but I wanted to include it anyway since we're all in it!)
After quite enough sand and sun and a little shopping in the International Marketplace, we went to Duke's Canoe Club. (Thanks Larissa for the tip!) What a cool place! We actually ate at the "Barefoot Bar" section of Duke's, which is a little patio restaurant right on the beach!
Bright and early this morning we headed to the USS Arizona Memorial at Pearl Harbor and spent a few hours there. There was actually a 95 year-old Pearl Harbor survivor there! What an honor just to see him! We bought a book he had written, had him sign it for us, and took a picture of him with Scott and the kids. Definitely something to remember!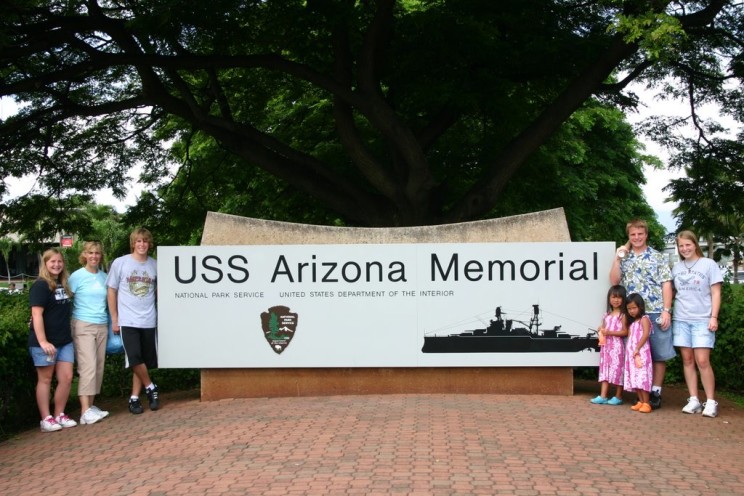 U.S.S. Arizona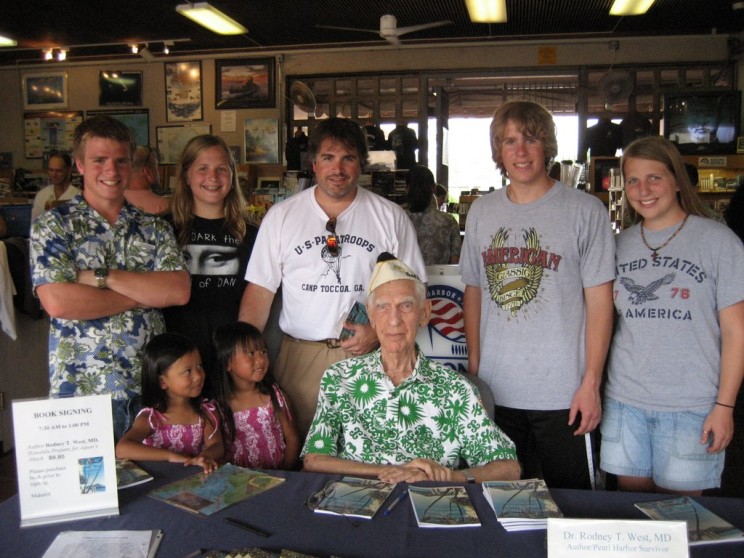 Scott and the kids with Dr. Rodney West – a Pearl Harbor survivor!
From there, we drove up to the North Shore. There is currently a surfing competition going on in Haleiwa – the "Van's Triple Crown of Surfing: OP Pro Hawaii". Today was the start of the women's competition and we stayed to watch for about a 1/2 hour. One of the biggest highlights of the trip so far – we saw Bethany Hamilton while we were there! She just walked right past us, and I'm so annoyed with myself for not talking to her and getting a picture of her with the kids! Bethany Hamilton is the girl that lost her arm in a shark attack while surfing when she was 13 years-old (she's 16 now). Spend a little time on her website to see what an inspiration she is: www.bethanyhamilton.com. I'm so grateful to have someone like this for my girls to look up to!
After that coolness, we drove around the north shore a little more, and spotted the burned out fuselage of Oceanic flight 815 from "LOST"! How cool was that!!!
Well, that was about enough cool stuff for one day! We are back at our hotel now, packing for a 5:00 am flight to the Big Island – yikes! Time to get to sleep!
Till next time,
Terri