Oh dear, it's been a few days – I hope I can remember everything we've done the past couple days! When I left off on Sunday, we were eating Alex's pancakes and just chillin' We kept the day at that same pace, and hung out by the pool for a few hours. Late in the afternoon we decided to go for lunch, which actually turned into dinner, and we went to the Hard Rock Cafe. Being late in the afternoon was perfect, because the restaurant is open-air right on the ocean and we were there for a beautiful sunset! What a nice way to end our time on the Big Island.
Monday morning we caught our flight back over to Oahu. This time we are staying on the east end of Waikiki. Since our room wasn't ready yet, we dropped off all of our luggage and walked down to "Cheeseburger in Paradise" for lunch. (When all else fails – eat!)
We've been wanting to go to a luau since we got here, but have been dragging our feet on it because we couldn't decide which one to do. We finally made up our minds and purchased tickets for the Sea Life Park Luau. They just started doing a luau there, so we were a little hesitant but thought that way we could kill two birds with one stone. Very good choice! It was phenomenal! We got there about an hour and a half early so that we could walk around the park and see the animals first. Once the luau actually began, they started us out with a flower lei and a family picture. Then we were led to an amphitheater where they spoke to us a bit about penguins and brought out the most adorable little penguin! He was sooo cute! They then led us into the dolphin theater where we watched an incredible dolphin show with lots of jumps, tricks, etc. Amazing creatures! Sea lions and more penguins joined the show too!
Then it was time to walk over to the meadow (ocean in the background!) where the actual dinner and polynesian show took place. The food AND the show were absolutely fantastic. Right off the bat, Anna and Emma got on stage to learn the "hula" with the cast and a few other guests. At one point later in the show, Alex got called up to "hula", and then again towards the end, Katie was called to come up and "hula". I guess when you have a large family, you have good odds!
Everyone of us enjoyed the luau so much, we talked about it all the way back to the hotel. This turned out to be one of the highlights of our trip. I'm convinced God has had his hand on this entire trip because things keep working out perfectly!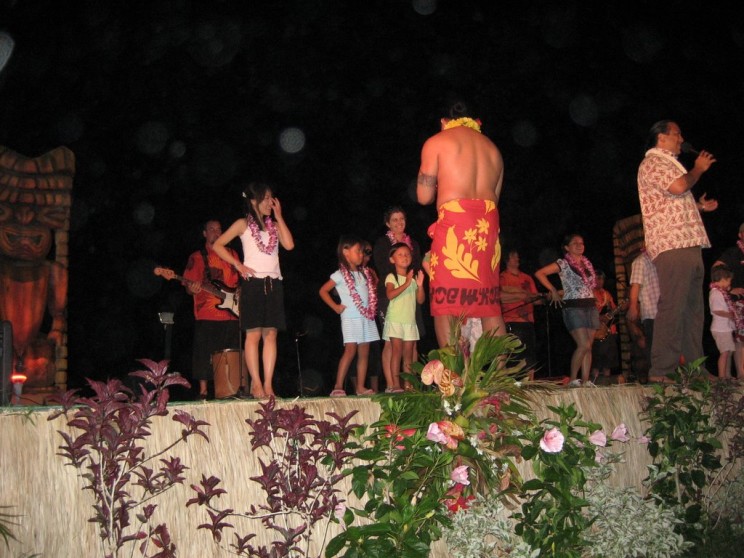 Anna and Emma trying out the Hula at the Luau!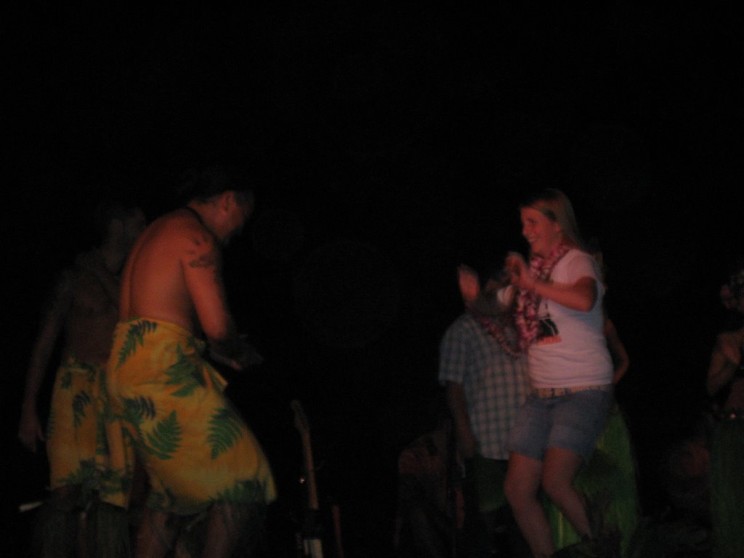 Katie shakin' it!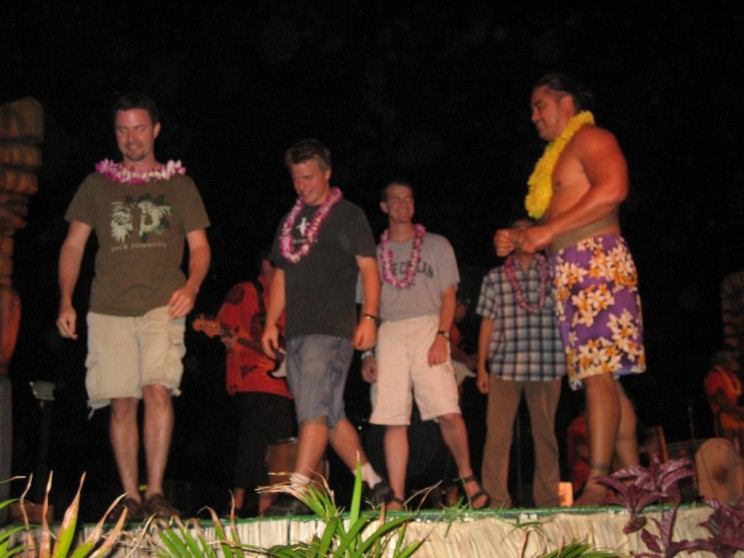 Alex – Forget computers – go for the professional "Hula Dancer" career!
Today was scheduled to be the last day of the surfing competition on the North Shore, so after a yummy breakfast at LuLu's, we headed north! After a quick stop at Best Buy to pick up the brand new P.O.D. CD, we made it to Haleiwa just in time! We were able to watch the final round of the men's competition which was really cool. (If you want to see what we were watching, go to www.TripleCrownOfSurfing.com) Before heading back to Honolulu we stopped at Matsumoto's for shave ice. I had what the locals recommend – Hawaiian shave ice (banana, coconut & pineapple flavor), with Azuki beans and ice cream underneath. It's really an unusual combination – the beans are just that – beans. Alex and I were the only ones that tried it with the beans. He thought the beans were gross, I thought they were really good, and everyone loved the shave ice!
Now we're back at the hotel, Bill's doing school, everyone else is in the pool, and here I am typing! I'm going to go join them!
Till next time,
Terri