While my last post was the world's shortest blog, this may prove to be the longest, so grab a snack and get comfy, 'cuz it's gonna be a long one!
We all made it to Hawaii, and are having a blast! It's been twenty years since I've been here, and it's amazing how much it has changed, AND how much it has stayed the same. There have been so many changes, but so many things I look at and think "oh yeah, I remember that!" So many great memories of times spent here with my parents! Last time I was here I was 20 years-old and single. Who would have thought that the next time I'd be back I would be on the brink of 40, married, and have 6 kids. How awesome it is to now be able to share this with MY kids! (Incidentally, the above mentioned just walked in the door – so much for completing a thought. This may become quite disjointed!)
I guess I need to back up a bit, since we actually arrived here two days ago! Wednesday morning started the adventure with the Airport Connection guy picking us up from our house. Five minutes into the airport, and we already needed to shell out an extra 50 bucks for overweight suitcases! It's going to be a very long day! But, three flights, and 15 hours later we did arrive safe and sound in Honolulu. The biggest travel lesson of the day – a backpack with a portable DVD player in it WILL tip over a 4 year-old!
So tired that I could hardly see straight, we checked into our hotel – the Hilton Hawaiian Village. Wow, what a beautiful place! We got our stuff settled into our rooms (sort of), and then faced the dilema of which had the stronger pull; hunger or need for sleep. Since it is now the airlines' policy to starve and dehydrate their passengers, hunger won, and we headed back downstairs for some soda and ice cream, and then called it a night.
Thursday morning we decided to explore Waikiki and just get a general lay of the land. Scott had to spend most of the day at his conference, so the kids and I set out on our own. We walked for a couple of miles down the main stretch of Waikiki, and stopped for breakfast at the Sheraton Moana Surfrider, one of the hotels in the heart of Waikiki. Boy, is it great to be back here! The kids had their first taste of Coconut syrup, Papaya syrup, and Mango juice, as we watched the surfers and swimmers filling up the beach. Then we just hung around Waikiki for a couple hours. We stopped by the International Marketplace for a little shopping, and then headed back to our hotel. Along the way we found this really cool aquarium that was built into the outside corner of a shopping center. It was two stories tall, and you could watch the fish from the outside of the building and then walk through a clear tunnel that went straight through the middle of the aquarium. From inside the tunnel, we watched a diver feeding the stingrays little tiny squids. Kind of gross, but really cool!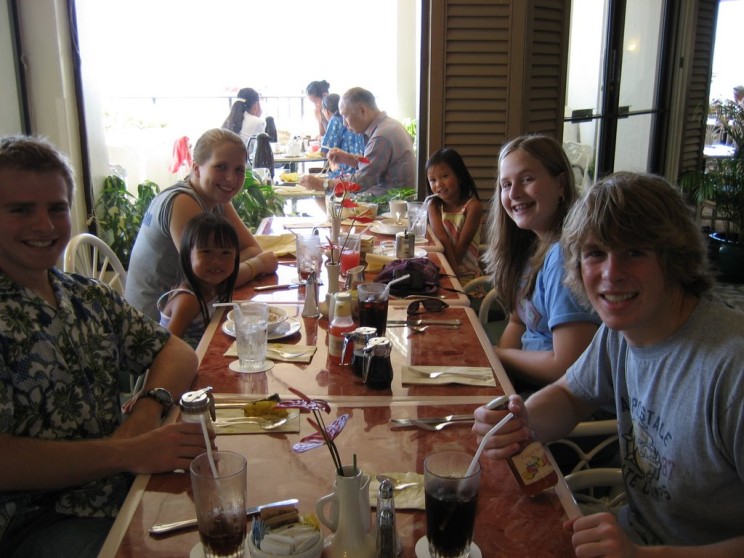 Our first morning's breakfast at the Sheraton Moana Surfrider – This was one of the first things I wanted to do because I had breakfast there with my parents 20 years ago, and have been dreaming about it ever since!
Finally we made our way back to our hotel and spent the afternoon swimming. We spent a little time at the beach, and then a little time in one of the pools. Later on, after Scott returned from the conference, we showed him the main Waikiki beach area (this time by car!), and then went back to the hotel to see our friends Stacy and Joel. Joel is a Marine who recently returned from Iraq (thank you Joel-you're amazing!) and is stationed in Hawaii. Amazingly, this night the Marine Corps Ball was being held at our hotel! So, we caught up with them to say "hi", and see them all decked out in their formals. Very cool! Onward from there to "Cheeseburger Waikiki" for dinner, and then once more collapsing into bed.
The kids in our hotel lobby
And that brings us to today. While Scott was gone, we decided to set out with the car and the GPS to find the filming locations of the TV show, "Lost". Thanks to the internet, we tracked down the addresses to a whole bunch of the "flashback" scenes. We were able to see the bank that Kate robbed, the diner where Kate visited her mother, the Chicken Shack where Hurley worked, the Seoul hotel where Jin worked, the Sydney airport, and the hotel where Lock gave the money to his father. In the midst of our treasure hunt, we also stopped at Hilo Hatties on a quest for hawaiian wear, but ended up with a bag full of candy instead. But hey, that works for me too!
We finished our "Lost" quest just in time to pick up Scott after the conference, and headed around Diamond Head toward the Windward side of the island. What a beautiful route! Miles of mountains on the left, and ocean on the right. We just took our time heading up to Kialua, where we met up with Stacy and Joel again. We stopped by their house for a short time, went out to dinner with them, and then headed back to our hotel. And that pretty much brings me up to now!
Tomorrow we plan to take some surfing lessons, but that's a different story for a different day!
Till next time,
Terri